Prince Oliver Black Shirt 100% Cotton (Modern Fit)
79.00€
Βάλε 3 προϊόντα προσφοράς στο καλάθι και κέρδισε επιπλέον έκπτωση 10%!
Prince Oliver Black Shirt 100% Cotton
The superiority of Prince Oliver in this fundamental piece of men's collection is famous and obvious even in the plain proposals. A black shirt is a must have for your collection, match it with beige blazer, colored chinos, polka dot tie, minimal style pocket square and complete your outfit with a pair of stylish leather shoes.
Πουκάμισα 39.90€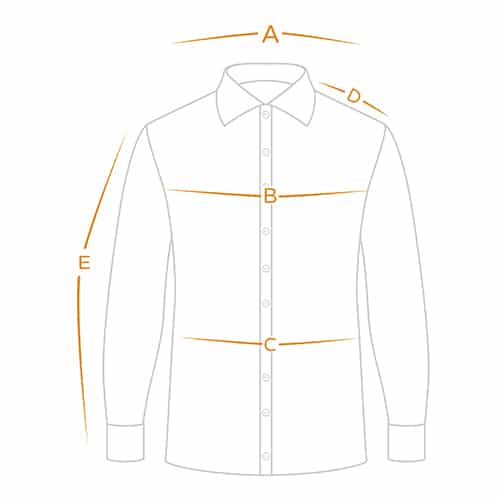 Modern Fit: Άνετη αλλά και κολακευτική εφαρμογή.
ΠΡΟΣΟΧΗ: Οι μετρήσεις έχουν γίνει πάνω στο προϊόν.
| | | | | | | |
| --- | --- | --- | --- | --- | --- | --- |
| ΜΕΓΕΘΟΣ (CM) | SMALL | MEDIUM | LARGE | XLARGE | XXLARGE | 3XLARGE |
| ΜΕΣΗ (1/2) (C) | 38 | 38.5 | 41 | 43 | 44.5 | 46 |
| ΣΤΗΘΟΣ (1/2) (B) | 49 | 50 | 53 | 57 | 60 | 62.5 |
| ΠΛΑΤΗ (A) | 40.5 | 44 | 46 | 46 | 50.5 | 52 |
| ΣΠΑΛΑΤΣΟ (D) | 15 | 15 | 16.5 | 16.5 | 17.5 | 18 |
| ΜΑΝΙΚΙ (E) | 64 | 65 | 66.5 | 66.5 | 68.5 | 69 |
PRINCE OLIVER SHIRT
Modern Fit
Plain Shirt
Long sleeve
Rex (Spread) Collar
QUALITY
100% Cotton
| | |
| --- | --- |
| Color | |
| Size | |
| Print | |
| Bleach | |
| Ironing | |
| Washing Degrees | |
| Kind | Men's Clothing |
| Fit | Modern Fit |
| Material | 100% Cotton |
| Product Type | |