Superior Floral Brown Shirt 100% Fine Cotton (Slim Fit)
125.00€
Superior Floral Brown Shirt
A brown floral shirt is the best choice for a relaxed night out, combine it with a gray or blue jacket, monochrome formal pants and put the finishing touch with a pair of elegant leather shoes.
QUALITY
100% Organic Cotton Albini
Top quality cotton from the Italian company Albini.
Πουκάμισο 20049 (Slim Fit)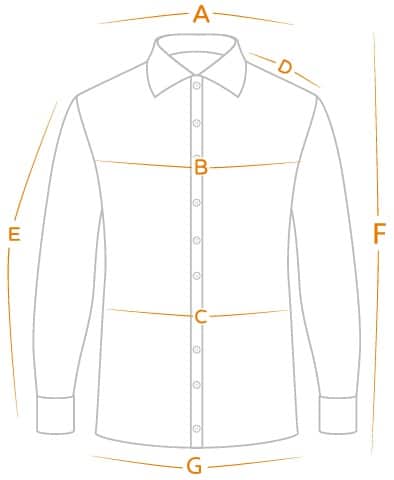 Slim Fit: Η ιδανική εφαρμογή για γυμνασμένες σιλουέτες.
ΠΡΟΣΟΧΗ: Οι μετρήσεις έχουν γίνει πάνω στο προϊόν.
| | | | | | |
| --- | --- | --- | --- | --- | --- |
| ΜΕΓΕΘΗ (CM) | S | M | L | XL | XXL |
| ΣΤΗΘΟΣ (1/2) (Β) | 50 | 52 | 54 | 56 | 58 |
| ΜΕΣΗ (1/2) (C) | 43 | 46 | 49 | 53 | 56 |
| ΠΟΔΟΓΥΡΟΣ (G) | 46 | 49 | 52 | 55 | 58 |
| ΜΗΚΟΣ ΜΑΝΙΚΙΟΥ (Ε) | 65 | 66 | 67 | 68 | 69 |
| ΜΗΚΟΣ (F) | 76 | 77 | 78 | 79 | 80 |
| ΣΠΑΛΑΤΣΟ (D) | 14 | 14.5 | 15 | 16 | 17 |
ΔΩΡΕΑΝ ΜΕΤΑΦΟΡΙΚΑ (για αγορές άνω των 50€)
ΑΜΕΣΗ ΠΑΡΑΔΟΣΗ
ΔΩΡΕΑΝ ΠΑΡΑΛΑΒΗ (σε όλα μας τα καταστήματα)
ΔΩΡΕΑΝ Η ΠΡΩΤΗ ΑΛΛΑΓΗ (ισχύει για παραγγελίες εντός Ελλάδας)
You may also like…
25.00

€
Available Sizes
39/42 | 43/46
108.00

€
Available Sizes
31 | 32 | 38
49.50

€
Available Sizes
M | L | XL | 2XL