Prince Oliver White Shorts 100% Cotton (Modern Fit)
50.00€
Prince Oliver White Shorts
The shorts of the brand stand out for their perfect fit, the right length (about 3 cm above the knee), the careful seams and the wonderful shades. Ideal for casual and weekend looks that do not sacrifice elegance and that in combination with linen shirt and suede loafers, sneakers or espadrilles compose an incomparable look.
Βερμούδα 27256009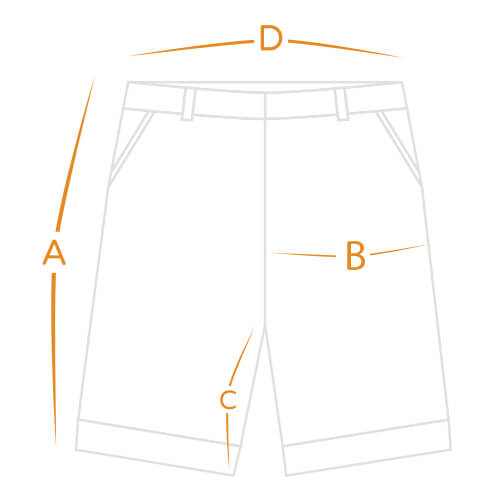 Modern Fit: Άνετη αλλά και κολακευτική εφαρμογή.
ΠΡΟΣΟΧΗ: Οι μετρήσεις έχουν γίνει πάνω στο προϊόν.
| | | | | | |
| --- | --- | --- | --- | --- | --- |
| ΜΕΓΕΘΟΣ (CM) | S | M | L | XL | XXL |
| ΜΕΣΗ (1/2) (D) | 37 | 40 | 41 | 42 | 43 |
| ΜΗΡΟΣ (1/2) (B) | 30 | 30 | 31 | 32 | 32 |
| ΕΣΩΤ.ΡΑΦΗ (C) | 22 | 23 | 24 | 25 | 26 |
| ΤΕΛΕΙΩΜΑ ΒΕΡΜΟΥΔΑΣ | 25 | 26 | 27 | 28 | 28.5 |
ΔΩΡΕΑΝ ΜΕΤΑΦΟΡΙΚΑ (για αγορές άνω των 50€)
ΑΜΕΣΗ ΠΑΡΑΔΟΣΗ
ΔΩΡΕΑΝ ΠΑΡΑΛΑΒΗ (σε όλα μας τα καταστήματα)
ΔΩΡΕΑΝ Η ΠΡΩΤΗ ΑΛΛΑΓΗ (ισχύει για παραγγελίες εντός Ελλάδας)
| | |
| --- | --- |
| Color | |
| Size | |
| Print | |
| Bleach | |
| Ironing | |
| Washing Degrees | |
| Fit | Modern Fit |
| Kind | Men's Clothing |
| Material | 100% Cotton |
| Outlet | |
| Product Type | |