Prince Oliver Charcoal Suit (Modern Fit)
560.00€
Prince Oliver Charcoal Suit
The famous suits of the brand stand out for the modern Italian design, the timeless patterns (monochrome, birdseye, with stripes, windowpane) and the handmade finishes. Mainly with balanced lapels and quality fibers (mostly wool, but also viscose, cashmere, linen, etc.), they become the armor of a cultured and at the same time dynamic man. Suitable both for top events (accompanied by the right accessories) and as for a perfect business look.
Wedding Suit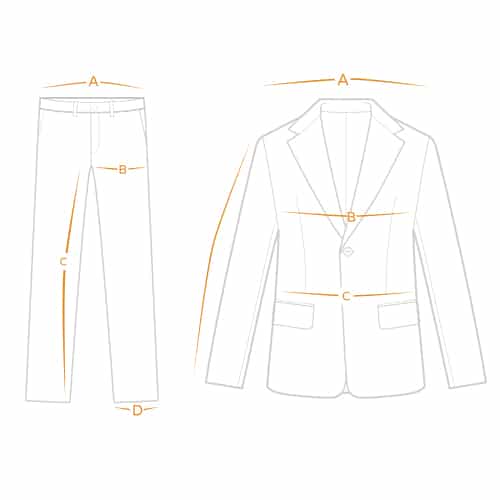 Modern Fit: Comfortable but also flattering fit.
ATTENTION: Measurements have been made on the product.
| | | | | | | | | | | | | | |
| --- | --- | --- | --- | --- | --- | --- | --- | --- | --- | --- | --- | --- | --- |
| SIZES (CM) | 42 | 44 | 46 | 48 | 50 | 52 | 54 | 56 | 58 | 60 | 62 | 64 | 66 |
| BLAZER | | | | | | | | | | | | | |
| BACK (Α) | 40.4 | 41.5 | 42.6 | 43.7 | 44.8 | 45.9 | 47 | 48.10 | 49.20 | 50,30 | 51.4 | 52.5 | 53.6 |
| CHEST (Β) (1/2) | 48 | 50 | 52 | 54 | 56 | 58 | 60 | 62 | 64 | 66 | 68 | 70 | 72 |
| WAIST (C) (1/2) | 43 | 45 | 47 | 49 | 51 | 53 | 55 | 57 | 59 | 61 | 63 | 65 | 67 |
| SLEEVE | 61.6 | 62.3 | 63 | 63.7 | 64.40 | 65.10 | 65.8 | 66.5 | 67.2 | 67.9 | 68.6 | 69.30 | 70 |
| LENGTH | 68,1 | 69.10 | 70.10 | 71.10 | 72.1 | 73.10 | 74.10 | 74.6 | 75.10 | 75.60 | 76.10 | 77.10 | 77.6 |
| | | | | | | | | | | | | | |
| TROUSER | | | | | | | | | | | | | |
| SIZES | 42 | 44 | 46 | 48 | 50 | 52 | 54 | 56 | 58 | 60 | 62 | 64 | 66 |
| SIZES (Α) | 37 | 39 | 41 | 43 | 45 | 47 | 49 | 51 | 53 | 55 | 57 | 59 | 61 |
| THIGH (Β) | 29.5 | 30.5 | 31.5 | 32.5 | 33.5 | 34.5 | 35.5 | 36.5 | 37.5 | 38.5 | 39.5 | 40.5 | 41.5 |
| INSEAM (C) | 87 | 87 | 87 | 87 | 87 | 87 | 87 | 87 | 87 | 87 | 87 | 87 | 87 |
| TURN-UP HEM(D) | 16.9 | 17.3 | 17.7 | 18.1 | 18.5 | 18.9 | 19.3 | 19.7 | 20.1 | 20.5 | 20.9 | 21.3 | 21.7 |
FREE SHIPPING (for orders over 60€ from Greece)
FAST DELIVERY
FREE PICKUP (from all our retail stores)
FREE FIRST RETURN (valid only from orders from Greece)