Premium Brown Striped Shirt 100% Cotton (Modern Fit)
145.00€
Premium Brown Stripped Shirt
A long-sleeved striped shirt captures the creative excellence of Prince Oliver and composes a complete Italian look. It best matches with chino trousers, blazers and oxford shoes.
QUALITY
100% Organic Cotton Albin
Top quality cotton from the Italian company Albini.
Πουκάμισο 20049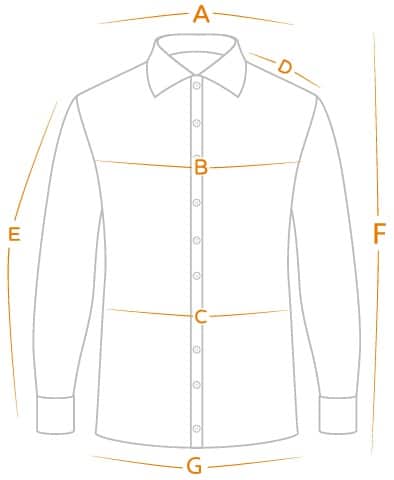 Modern Fit: Άνετη αλλά και κολακευτική εφαρμογή.
ΠΡΟΣΟΧΗ: Οι μετρήσεις έχουν γίνει πάνω στο προϊόν.
| | | | | | | |
| --- | --- | --- | --- | --- | --- | --- |
| ΜΕΓΕΘΗ (CM) | S | M | L | XL | 2XL | 3XL |
| ΣΤΗΘΟΣ (1/2) (Β) | 52 | 54 | 57.5 | 60 | 63 | 66 |
| ΜΕΣΗ (1/2) (C) | 46 | 49.5 | 52 | 55.5 | 58.5 | 61.5 |
| ΠΟΔΟΓΥΡΟΣ (G) | 49 | 52.5 | 55.5 | 60 | 62 | 64 |
| ΜΗΚΟΣ ΜΑΝΙΚΙΟΥ (Ε) | 66 | 66.5 | 67 | 69 | 70 | 71 |
| ΜΗΚΟΣ (F) | 77 | 77.5 | 79 | 80.5 | 81 | 81.5 |
| ΣΠΑΛΑΤΣΟ (D) | 14.5 | 14.5 | 15 | 15.5 | 16.5 | 17.5 |
ΔΩΡΕΑΝ ΜΕΤΑΦΟΡΙΚΑ (για αγορές άνω των 50€)
ΑΜΕΣΗ ΠΑΡΑΔΟΣΗ
ΔΩΡΕΑΝ ΠΑΡΑΛΑΒΗ (σε όλα μας τα καταστήματα)
ΔΩΡΕΑΝ Η ΠΡΩΤΗ ΑΛΛΑΓΗ (ισχύει για παραγγελίες εντός Ελλάδας)
PRINCE OLIVER SHIRT
Modern Fit
Striped shirt
Long sleeve
Modern Straight Collar
| | |
| --- | --- |
| Color | |
| Size | |
| Kind | Men's Clothing |
| Material | 100% Cotton |
| Outlet | |
| Product Type | |
| Washing Degrees | |