Prince Oliver White Shirt With Orange Design (Modern Fit)
69.00€
Prince Oliver White Shirt with Orange Design
A long-sleeved shirt with a small design captures the creative excellence of Prince Oliver and composes a complete Italian look. With an interior decoration on the collar and the cuff for master roll shooting, it is the other half of the chinos, while it is openly flirting with the jackets and oxford shoes.
Πουκάμισα 39.90€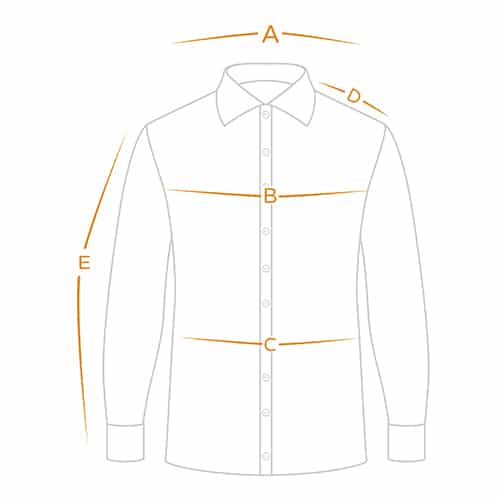 Modern Fit: Άνετη αλλά και κολακευτική εφαρμογή.
ΠΡΟΣΟΧΗ: Οι μετρήσεις έχουν γίνει πάνω στο προϊόν.
| | | | | | | |
| --- | --- | --- | --- | --- | --- | --- |
| ΜΕΓΕΘΟΣ (CM) | SMALL | MEDIUM | LARGE | XLARGE | XXLARGE | 3XLARGE |
| ΜΕΣΗ (1/2) (C) | 38 | 38.5 | 41 | 43 | 44.5 | 46 |
| ΣΤΗΘΟΣ (1/2) (B) | 49 | 50 | 53 | 57 | 60 | 62.5 |
| ΠΛΑΤΗ (A) | 40.5 | 44 | 46 | 46 | 50.5 | 52 |
| ΣΠΑΛΑΤΣΟ (D) | 15 | 15 | 16.5 | 16.5 | 17.5 | 18 |
| ΜΑΝΙΚΙ (E) | 64 | 65 | 66.5 | 66.5 | 68.5 | 69 |
PRINCE OLIVER SHIRT
Modern Fit
Long sleeve
QUALITY
80% CO20% PL
| | |
| --- | --- |
| Color | |
| Size | |
| Print | |
| Bleach | |
| Ironing | |
| Washing Degrees | |
| Product Type | |
SKU:
2008077707
Categories:
Men
,
Men's Clothing
,
Men's Clothing Christmas Bazaar
,
Men's Shirts
,
No Discount
,
Outlet
,
Outlet Men
Tags:
Exceptions
,
Outlet
,
Prince Oliver Shirt
,
Shirt
,
Shirts
,
Shirts for Men
,
Shirts for Men